That's when it happened, the sky grew gray.
And the wind began to blow, and the trees
to sway. Then a puff of pink smoke swirled
in the air. And he saw the most
beautiful fairy there.

"Why you're the Tooth Fairy,"
Lenny exclaimed.
"On a very rare visit!" The Tooth Fairy
explained. "Your tears, Dear Lenny, were
more than I could take. So this very rare
visit I decided to make."

Lenny explained that he was really quite
sad. Because he hadn't lost teeth like the
others had. It made him feel small, like he
didn't belong. And he told her his mouth was
doing something wrong!

The tooth Fairy smiled and revealed a magic
box. It was gold with bright rubies, and had
special locks. "This box hold the greatest
treasures in the land." But Lenny was still sad
and didn't understand.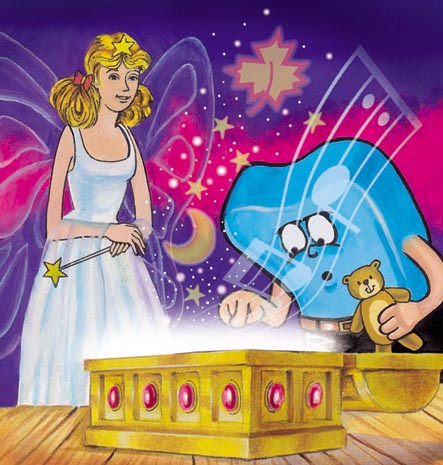 "Inside my box are the things most dear: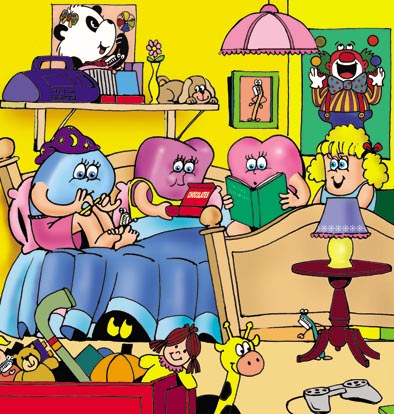 Three little Smilestones jumping on the bed.
"We're having a slumber party," Freda Front said.
"We're singing silly songs and having pillow fights!
Quiet now everyone I'm turning off the lights!"

But something lurks beneath the bed in the dark!
(Oh, my goodness, could it be the Bad Plaque Shark?)

Four Little Smilestones jumping on the bed.
"We're having a slumber party," Margaret Molar said.
"We're telling scary stories and making shadows on the wall!"
"But what is that noise I hear coming down the hall?"

Tap, Tap, Tap! Knock, Knock, Knock!
"Go to bed girls, it's almost ten o'clock!
Time your brush those teeth now, if you please!
You really want to avoid getting cavities!"
Willy Wisdom handed out toothbrushes to each one.
"Slumber parties really can be so much fun!"
When they finished brushing, the Smilestones cheered!
For the Plaque Shark beneath the bed had disappeared!